Here's another of my favorites using the Wonderful Wings bundle: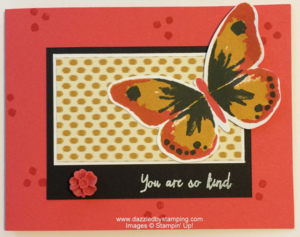 I used Watermelon Wonder, Delightful Dijon & Tuxedo Black.
This was another one I wasn't sure would work with ink.
But the right placement worked perfectly!
Oh, I used Bohemian DSP, too. 🙂
I have to tell you something, but you MIGHT be a little upset with me….
I keep sending Tyler pictures of these cards, because I keep thinking of him…
He and I have this joke that we call each other "bad" or we say, "You're the baddest one."
Yes, I know–wonderful grammar. But that's kinda the point.
We're being goofs.
Well, every time I look really quick at this saying "You are so kind", I think it says "You are so bad." EVEN THOUGH I KNOW WHAT IT SAYS!!
EVERY TIME!!
So now I told him all my cards to him are going to have that saying on it.
And now I've corrupted you, too.
I'm so ashamed! Sorry!
Love my kids. Love goofin around.
Love all of you, my customers, too!
Have an amazing day!
Remember, if you can fall in love with a project, you can learn to create it! Here to help you channel your inner Creative Genius…
Steph
LIKE me on Facebook.
Follow me on Pinterest.
Subscribe to my FREE newsletter, and receive my "5 Tips for Making Fabulous Hand-Stamped Creations."