I got more stuff from the new catalog!!!!
I'm sharing one of the items that SPOKE to me when I first saw the new catalog–and when my box arrived….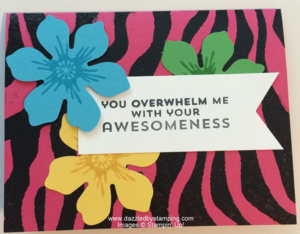 HA!!! How fun is that?!?!
It totally makes me think of Elizabeth–though her first choice wouldn't be pink.
So the set is It's Wild, and I used it with Beautiful Bunch and Flower Patch…Melon Mambo, Tempting Turquoise, Daffodil Delight & Cucumber Crush.
OH–and our new Tear & Tape Adhesive is FABULOUS!!!!
It replaces Sticky Strip and is SO EASY to work with!!
You'll use it at my Open House.
Ok, gotta go!!
Have a fantastic rest of your day!
Remember, if you can fall in love with a project, you can learn to create it! Here to help you channel your inner Creative Genius…
Steph
LIKE me on Facebook.
Follow me on Pinterest.
Subscribe to my FREE newsletter, and receive my "5 Tips for Making Fabulous Hand-Stamped Creations."