Sprinkles of Life, that is….
I'm finally here after playing a few minutes with my new stuff!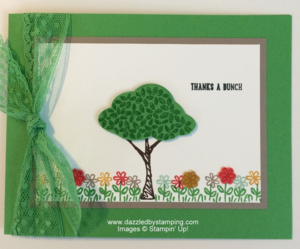 Sprinkles of Life is the set made with the intent of donating $3 to Ronald McDonald House Charities (RMHC) with the purchase each set. It's only available in Photopolymer (the completely clear stamp option.)
Adorable.
Ok, back to the card:
all the new In Colors are featured on this card: Cucumber Crush, Tip Toe Taupe, Watermelon Wonder, Delightful Dijon, Mint Macaron
coordinating Tree Builder punch
Dotted Lace Trim ribbon
I haven't played enough to know which is my favorite color yet, but I kinda fell in love with Cucumber Crush right away–much like Gumball Green but brighter.
If you haven't gotten your new catalog yet, stop by to pick one up!
Had to be quick today!
Hoping to be back with more cute, new stuff tomorrow!
Have a great day!!
Remember, if you can fall in love with a project, you can learn to create it! Here to help you channel your inner Creative Genius…
Steph
LIKE me on Facebook.
Follow me on Pinterest.
Subscribe to my FREE newsletter, and receive my "5 Tips for Making Fabulous Hand-Stamped Creations."