Here's the baby card we made last week: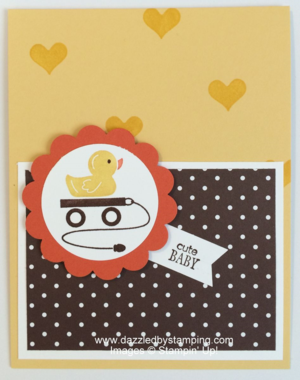 I always love ducks for babies. 🙂
We used Embellished Events (retiring), Banner Banter, and Honeycomb Hello.
This Neutrals DSP Stack is retiring, too.
Oh!!
My new catalogs shipped already!!! Woohoo!!!
I think they should be here Monday.
I WILL LET YOU KNOW!!!
Do you want to preorder some of the new products too??
You can choose those items as part of your Starter Kit when you sign up right now!
Ask me for more details!
Have a fabulous day!
Remember, if you can fall in love with a project, you can learn to create it! Here to help you channel your inner Creative Genius…
Steph
LIKE me on Facebook.
Follow me on Pinterest.
Subscribe to my FREE newsletter, and receive my "5 Tips for Making Fabulous Hand-Stamped Creations."