Today is the last day to enter my drawing for $50 of FREE product!!
AND it's the last day to get a 15% discount on JUST the Butterflies Thinlits or get a free item for purchasing a "Butterfly bundle."
See this blogpost for details on both deals.
Also, I have a great card for you today using the retiring sets Postage Due and Four You.
BUT MY BLOG IS BEING WEIRD!!
It won't upload here, but it WILL upload on my facebook page.
So check it out here: www.facebook.com/DazzledByStamping
(You DON'T have to have Facebook to view a business page.)
It's fixed now….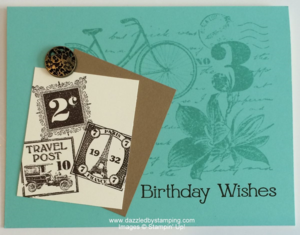 It's not my typical kind of set to buy, but the results are always gorgeous!
I'll be ordering new catalogs soon! They should be in mid-May.
Let me know if you want me to reserve you one….They're free from me!
Have a wonderful day!!
Remember, if you can fall in love with a project, you can learn to create it! Here to help you channel your inner Creative Genius…
Steph
LIKE me on Facebook.
Follow me on Pinterest.
Subscribe to my FREE newsletter, and receive my "5 Tips for Making Fabulous Hand-Stamped Creations."