One of the most popular items in the Occasions Catalog is the Butterfly Basics bundle.
Here's a great card using it, made by my downline Nadine: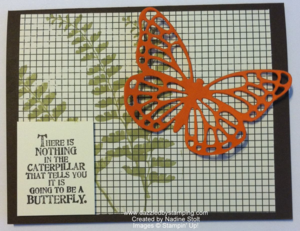 By the way, her inspiration was the Flashback DSP she earned (1 pack each month for 6 months) when she signed up back in August.
THIS MONTH, if you sign up to be a demonstrator, you can choose a free project kit OR 2 free SAB items!! (The kits available are shown in the back of the SAB Catalog.)
What are some reasons YOU may want to sign up?
Just because you want the demonstrator discount
Because you want to build a business doing something you love
To supplement your income
You love meeting new people–and having girls' nights
Whatever your reason(s), I can help you meet your goals.
Call me and we can chat!!
Thanks for checking in today!
Have a great day!!
Remember, if you can fall in love with a project, you can learn to create it! Here to help you channel your inner Creative Genius…
Steph
LIKE me on Facebook.
Follow me on Pinterest.
Subscribe to my FREE newsletter, and receive my "5 Tips for Making Fabulous Hand-Stamped Creations."