I have the perfect card to celebrate this gorgeous first day of spring!!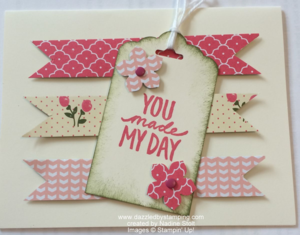 My downline Nadine made it for our Shoebox Swap we've been doing together.
It uses one of the FREE SAB stamp sets available through March 31–and the All Abloom DSP Stack from the full catalog.
Enjoy your first official spring day!
Have a great weekend!
Remember, if you can fall in love with a project, you can learn to create it! Here to help you channel your inner Creative Genius…
Steph
LIKE me on Facebook.
Follow me on Pinterest.
Subscribe to my FREE newsletter, and receive my "5 Tips for Making Fabulous Hand-Stamped Creations."