I shared this adorable idea with my clubs this month!
(Some of you have yet to make it, but I couldn't wait to share any longer!!)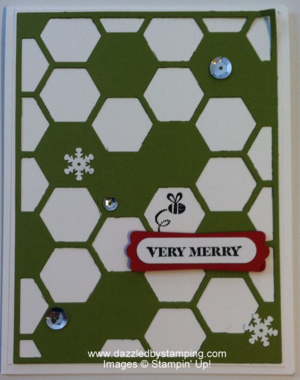 How's that for "out of the box"?!
Kind of unlike me actually!
Here are a couple tips you NEED TO KNOW for this card:
The Hexagon Hive Thinlit IS available as a bundle with the Honeycomb Hello set that this bee is in.
When you use this thinlit, you need an extra "shim" in your layers to make sure it cuts out properly. (I use a piece of cardstock between the platform and the bottom cutting mat.)
You also need a layer of wax paper between the cardstock and the actual thinlit; this allows you to pull the fine "hive shape" from the thinlit without it ripping.
Here are a couple other things to mention:
TODAY is my last day to take advantage of my Birthday Sale! And it DOES NOT HAVE TO BE YOUR BIRTHDAY this month. Here are the details. If you want to order online, use hostess code H4WYUGGB before 7pm. I'll give you a gift certificate for your discount. Otherwise, you can email, text me your order. 🙂
Stampin' Up! is having another Black Friday sale this year! I will have

details

TOMORROW

, 11/21. So check back for more info!!
Have a great day! And stay warm and safe!!
Remember, if you can fall in love with a project, you can learn to create it! Here to help you channel your inner Creative Genius…
Steph
LIKE me on Facebook.
Follow me on Pinterest.
Subscribe to my FREE newsletter, and receive my "5 Tips for Making Fabulous Hand-Stamped Creations."