My Annual World Card-Making Day Shoebox Swap was fantastic!!!!
Everyone's cards were great–and fun to make!!!
As usual, though, I forgot to take pics.
WHAT IS MY DEAL?!?!?!
So I guess all I have to show for the event is a stack of cards. 😉
I'll probably be sharing them all week.
But I'll start with my favorite that I provided. (I usually do 3. I just like there to be more boxes passing around–less waiting.)
The inspiration for this card came from another card I saw from another demonstrator. I don't have a CLUE what her name is and it was from a class one of my downline's customers attended. (I know. Confusing right?)
Anyway, I changed up colors and simplified a little bit.
AND.I.LOVE.THIS.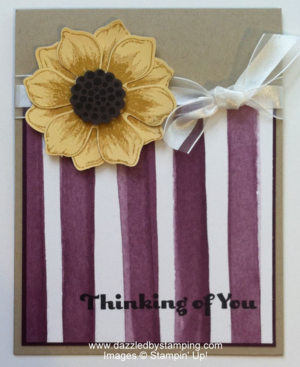 This is the Beautiful Bunch stamp set and Fun Flower punch.
(Stamped and punched out 2 flower in Hello Honey on So Saffron.)
Color Me Autumn DSP; Crumb Cake, So Saffron with Hello Honey, Early Espresso and Blackberry Bliss (DSP); Organza Ribbon.
Gawgeous!!!
I'll be back tomorrow with more.
Have a great week!
Remember, if you can fall in love with a project, you can learn to create it! Here to help you channel your inner Creative Genius…
Steph
LIKE me on Facebook.
Follow me on Pinterest.
Subscribe to my FREE newsletter, and receive my "5 Tips for Making Fabulous Hand-Stamped Creations."