I had fun stamping yesterday!
Mostly fall and Christmas cards….
But I'm not ready for fall.
Let alone Christmas!!!
So before I share anything I was making yesterday, I wanna share this fun card we made at my last class.
I think it's a combination of a few cards I've seen recently on Pinterest and long ago in person.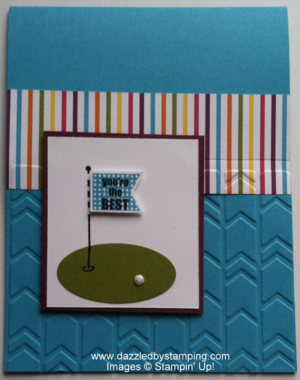 My favorite part had to be impromptu….my golfball!
I didn't plan ahead well enough to make things easy and order more Neutrals Candy Dots.
So I used my white gel pen and colored a Basic Rhinestone. 😀
What's the quote? Need produces invention? (Something like that?)
I wasn't ready to give up once I was on a roll.
Nevermind I didn't have Candy Dots!!
By the way, I'd suggest using the Arrows embossing folder BEFORE adding the Sweet Taffy DSP.
It will look better; my embossing was an afterthought while creating. 😉
Colors are Tempting Turquoise, Old Olive & Rich Razzleberry.
And the adorable flag comes from Banner Banter and the Banner Punch.
Hope you have a fantastic weekend!!!
Remember, if you can fall in love with a project, you can learn to create it! Here to help you channel your inner Creative Genius…
Steph
LIKE me on Facebook.
Follow me on Pinterest.
Subscribe to my FREE newsletter, and receive my "5 Tips for Making Fabulous Hand-Stamped Creations."