So….Elizabeth is usually my sounding board if I'm struggling with the look of a card or project.
She's good with color, and I appreciate her opinion.
Well, I was planning for my club this past month and had a card that wasn't quite coming together.
I had a certain technique in mind…a certain stamp set…and a couple colors.
I thought I needed MORE color.
So I added some.
Something still wasn't right.
So I showed Elizabeth and asked her what she thought.
First the card:
Colors: Mossy Meadow, Calypso Coral, Crumb Cake, Soft Suede, Early Espresso
Now the reaction:
[wide eyes]: "Get rid of the blood spatter and it should be fine!!!"
"It's deer hunting season!!!"
Hahahaha!!! I hadn't gone there.
I guess it's a good thing I ask her opinion sometimes!
When I was laughing so hard at her, she told me that she gives me input on my stamping like I give Todd input on football.
Touché!
(I have a great recent story on that, but reading it would not be nearly as good as seeing it. Sometimes I TRY to understand football and watch it with him. I ask him questions to learn more, which he doesn't usually mind. OTHER times, I can't help myself and MY PERSPECTIVE spews out. Recently I cracked myself up, and Todd couldn't help but laugh, too–but thought I was a complete goof. He usually tries to ignore me and my perspective, but this one was too good to ignore.)
Well, I didn't ignore Elizabeth on this one either.
Here's what we ended up with: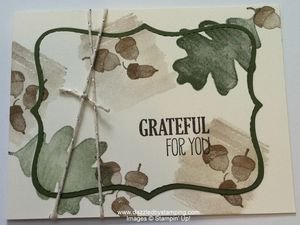 As I said at my clubs, I wanted to show the Top Note die.
BESIDES embossing folders, I think it's the 2nd best purchase for the Big Shot.
It's a classic, and that's what I tell people who buy one and ask "what should I buy first?"
Well, I hadn't used the Top Note die in awhile and wanted a modification of Triple Time Stamping.
We:
Cut the stitching off the Vanilla layer of "Top Note"
Attached it to the Vanilla card base with just a spot of adhesive in the center.
Stamped the card, making sure to press hard and stamp ACROSS the 2 layers of the card.
TWIST the Vanilla Top Note off the card to release the adhesive.
Attach the Mossy Meadow Top Note to the back of the Vanilla. (Adding the matte layer ends up covering the stamped area that is blank.)
Attach both layers back onto the base permanently.
I think this is a much better choice. Don't you?
What's YOUR perspective?!
One of my customers said her nephew would love it! He's a hunter. 😉
Have a fabulous day!!!
(By the way, I leave for DC in a few days!! Can't wait!!)
Remember, if you can fall in love with a project, you can learn to create it! Here to help you channel your inner Creative Genius…
Steph
LIKE me on Facebook.
Follow me on Pinterest.
Subscribe to my FREE newsletter, and receive my "5 Tips for Making Fabulous Hand-Stamped Creations."