This tealight candle gift box is something we're making tonight at my Mini Stamp Camp!
I've been showing it at my clubs this month, too.
The perfect little gift–using your Envelope Punch Board….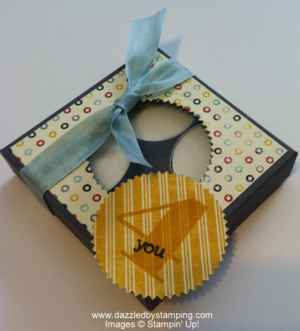 Unlike the ones I made at my clubs, we actually used the cut out window of DSP and flipped it for the "4 you" tag.
By the way, you need Framelits for the window, because punches won't be able to reach far enough into the center of the box and/or miss punching the flaps.
For the box I've been showing all month, I used the Circles Collection of Framelits–AND THEY'RE ONE OF THE WEEKLY DEALS until Monday, 9/1!
Supplies: Larger Than Life Alphabet, A Dozen Thoughts, Starburst Framelits, Flashback DSP, Window Sheets, Crushed Curry ink, black marker, Soft Sky Seam Binding Ribbon, Fast Fuse, Envelope Punch Board
Dimensions:
Basic Gray cs: 6 1/4 x 6 1/4
DSP & Window Sheet: 3 x 3
Scoring with Envelope Punch Board:
punch & score at 2 5/8" AND 3 5/8"
turn to the next edge and line up score guide with each score line and punch and score again
repeat 2nd step until all sides have 2 notches and score lines
Can't wait to make more tonight!! Have fun making your own!
If you make some, post them on Pinterest!!!
OH!!! I ALMOST FORGOT!!!!
You can order from the Holiday Catalog today!!!
Today is the last day you can sign up as a demonstrator and get an extra $25 of product!! Go HERE to sign up online!!
Have a great day!
Remember, if you can fall in love with a project, you can learn to create it! Here to help you channel your inner Creative Genius…
Steph
LIKE me on Facebook.
Follow me on Pinterest.
Subscribe to my FREE newsletter, and receive my "5 Tips for Making Fabulous Hand-Stamped Creations."