Well, THAT'S a silly question!!!!
What about free shipping?
DUH!!!
Well, there's a promotion going on for just that. For A Week. (thru 8/28)
The Demonstrator Starter Kit is $150 of product for only $99 plus free shipping!!
(Also includes business supplies….Normally includes $125 of product.)
You could purchase this kit–
JUST for the free product and free shipping….
JUST because you want the product discount even after the free product….
JUST to fund your habit!! (that's why I started!!)….
or even JUST because you wanna try your hand at building an amazing business….
Whatever YOUR reason(s), there's no obligation or requirement of any kind once you receive your kit–and no penalty if you "drop."
HOWEVER, I CAN help you succeed if you have goals you want to achieve!
If you'd simply like to stay active, $300 in purchases &/or sales by the end of January is all you need! ($300 per quarter to stay active after that.)
LET ME KNOW if you'd like this COMPLETELY customizable kit!! (You can even choose products from the Holiday Catalog!!) Or click here for more info!!
Speaking of the Holiday Catalog, here's another project from my playdate with For All Things: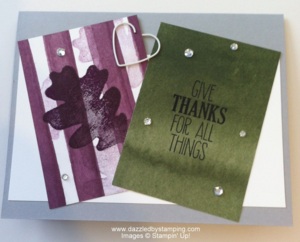 I wanted to get away from the Color Me Autumn color pallette a LITTLE bit, but I also ADORE Blackberry Bliss!!
So I didn't stray too far…..
Both the Blackberry Bliss and Mossy Meadow are designs from the Color Me Autumn DSP.
The oak leaf and greeting were added.
Sweet.
Well have a fantastic weekend!!!
And be sure to ask me for more info on the kit!! Or sign up here!
Remember, if you can fall in love with a project, you can learn to create it! Here to help you channel your inner Creative Genius…
Steph
LIKE me on Facebook.
Follow me on Pinterest.
Subscribe to my FREE newsletter, and receive my "5 Tips for Making Fabulous Hand-Stamped Creations."