I've been busy finishing my newsletter finally today, so this is a VERY quick post.
Just thought I'd share my love of the shipping department at Stampin' Up!
THEY ROCK!!!
Besides being QUICK AND ACCURATE, every once in awhile a get a little love, too.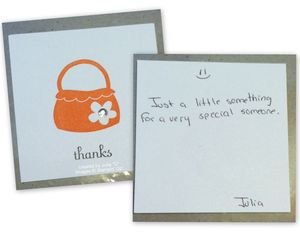 I don't know HOW they get all the MEGA shipments out–during Sale-a-Bration especially–and also have the time to drop in a quick note, too.
All I can say is THEY'RE FABULOUS–THE BEST in the business!!! (And thank you, Julia!)
(And for those of you who follow my blog and saw my corner or were AT my Hostess Appreciation Party and WITNESSED the wall of orders for people to pick up, YES!!! This little note came that week!)
Have a great week!
Remember, if you can fall in love with a project, you can learn to create it! Here to help you channel your inner Creative Genius…
Steph
LIKE me on Facebook.
Follow me on Pinterest.
Subscribe to my FREE newsletter, and receive my "5 Tips for Making Fabulous Hand-Stamped Creations."