Hahaha!
For some reason, I just wanted to combine every part of this card I could into my post title.
I LOVE Happy Watercolor, the Foil Sheets, Arrows embossing folder, and even the Gold Sequin Trim.
I say "even", because when I first saw it, all I could think of was my costumes for tap-dancing in elementary school.
And I wasn't even the one that had to make them!!
I had fun in tap, but I was NOT GOOD.
I specifically remember being thankful I was in the back row for one of the routines at one of my recitials.
Watched peoples' feet in front of me.
Could.not.get.it.
BUT–I'm not tapping anymore.
I'm stamping!! And this card is full of many of my loves from the Occasions Catalog.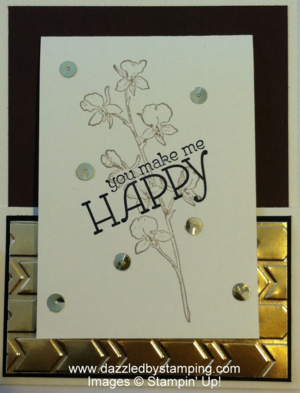 The colors–BESIDES GOLD 😉 –are Very Vanilla, Chocolate Chip (cs), Crumb Cake & Black StazOn ink.
Easy card, but a little different.
It's 2 cards within 1; I don't know what it's called.
Just look again: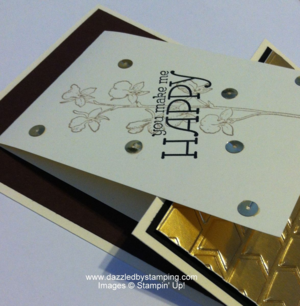 Kinda fun!
What do you think?! Let me know in your comments!
Have a great night!! It's club night!!!
Remember, if you can fall in love with a project, you can learn to create it! Here to help you channel your inner Creative Genius…
Steph
LIKE me on Facebook.
Follow me on Pinterest.
Subscribe to my FREE newsletter, and receive my "5 Tips for Making Fabulous Hand-Stamped Creations."