I have an awesome trick to share that I just read recently.
But first….it's Tuesday again!
That usually means it's club or class day–and it ALWAYS means it's time for new Weekly Deals.
Check out what's on sale this week (3/25-3/31):
Brights Core'dinations Cardstock
#129953
Discounted Price: $17.96
Cajun Craze 8-1/2X11 Card Stock
#119684
Discounted Price: $5.21
Champagne Glimmer Paper
#127885
Discounted Price: $3.71
Silver Glimmer Paper
#124005
Discounted Price: $3.71
Soho Subway Designer Series Paper
#130140
Discounted Price: $8.21
Subtles Core'dinations
#129954
Discounted Price: $17.96
This And That Epic Day Designer Series Paper
#130814
Discounted Price: $8.21
You have ONE LAST WEEK!!!
Ok, now for my tip…….
FOR CLEAR-MOUNT STAMP USERS:
One reason I would be hesitant to order a stamp set in clear-mount would be that I'd be afraid of losing the stamps–ESPECIALLY the TINY ones!
SAVE THE FOAM BACKING that you pop the stamps out of.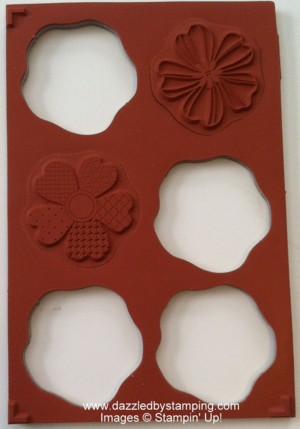 YES, I DO realize this is not from a set of clear-mount stamps.
But this is what I had at the moment.
When you save the foam backing, you can leave it in your case and have a spot to put each of your stamps when you're done using them.
At a glance, you can see if you have all the stamps before putting away the set.
It saves them rolling all around in the case.
Love that quick tip.
Maybe some of you are much smarter than me and figured that out already. Nice job.
For the rest of you clear-mount users–that are like me and need hints–you're welcome. 😉
Have a wonderful day! Now off to finish getting ready for my class tonight!
Remember, if you can fall in love with a project, you can learn to create it! Here to help you channel your inner Creative Genius…
Steph
LIKE me on Facebook.
Follow me on Pinterest.
Subscribe to my FREE newsletter, and receive my "5 Tips for Making Fabulous Hand-Stamped Creations."