Well…not so much metals…
but definitely MIXED and definitely MARCIA!
Last week my customer Marcia Hill had a simple but outstanding card on her blog.
I loved it and thought it had grays at first. (They were Wisteria Wonder & [old] Almost Amethyst.)
I needed a simple swap, and my mind went here: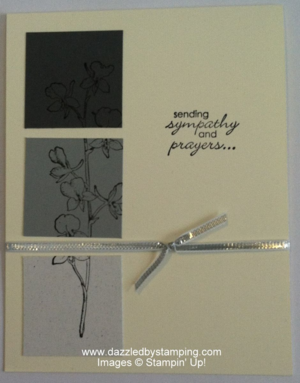 The colors are Very Vanilla card base with Basic Gray, Smoky Slate & Naturals White cs, stamped with Black StazOn.
Although gray is not white, I would classify it in the white/black category as opposed to the vanilla/brown category.
And it's so funny how trends change….
I KNOW I remember reading years ago that you should choose a neutral and stick with it.
"Don't mix them!"
Well, NOW look what we've done!!!
Not only do we mix neutrals, but we mix metals! (See this post.)
And I really LIKE this mix!! Hope you do, too.
(Elaine, Lynn, & Diane, one of these is yours, too.)
Thanks, Marcia, for the inspiration!
(oh, the flowers are from Happy Watercolor; words from Petite Pairs)
Have a great week!
Remember, if you can fall in love with a project, you can learn to create it! Here to help you channel your inner Creative Genius…
Steph
LIKE me on Facebook.
Follow me on Pinterest.
Subscribe to my FREE newsletter, and receive my "5 Tips for Making Fabulous Hand-Stamped Creations."