Do you recall it's Hostess Appreciation Party week?
I'M SO EXCITED!!!
AND I'm doing great with my timing!!
I actually feel like it's Friday night.
My instructions are done. It's 2:15PM on THURSDAY–not 2:15AM on FRIDAY!!
(technically Saturday)
My mom was gonna help me Tuesday–ended up being yesterday.
And having to be ready to have her help [you know, kinda like getting the house clean for the housekeeper to come over? ;)], really helped me!!
I think I'll actually get some sleep the night before Hostess Appreciation!
It will be good. (First time EVER!!)
Oh, and I have to show you my corner….
I've had orders come in for clubs and workshops; plus I already have my retired stuff and HAP door prizes packed up.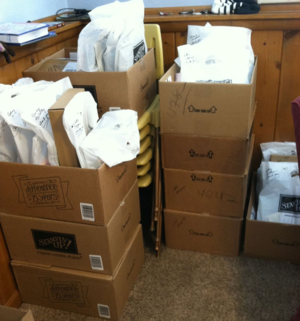 There's still more coming tomorrow! 😀 I think I should have rented an extra room at the HSB just for orders!
Ok, well enough sharing about where I'm at….
For now I'll leave you with a fun technique video. And MAYBE I'll be back later with a card I have in mind. (Nothing from the HAP, though. Can't see that until after Saturday!)
Have a great day!
Remember, if you can fall in love with a project, you can learn to create it! Here to help you channel your inner Creative Genius…
Steph
LIKE me on Facebook.
Follow me on Pinterest.
Subscribe to my FREE newsletter, and receive my "5 Tips for Making Fabulous Hand-Stamped Creations."