I have a great card for you, but it almost didn't happen!
I was getting a little FRUSTRATED.
We have a cute new product: Hexagon Hive Thinlits Die.
Take a peek!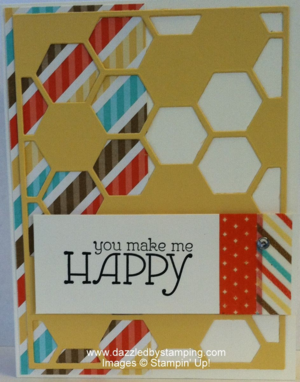 The So Saffron is the exact shape of the thinlit.
The die cuts out some hexagons and leaves others for a cute design.
I like it!!
HOWEVER, I'd highly suggest THIS TIP:
use wax paper between cardstock and thinlit!
Just like the Expressions Thinlit Dies from the Holiday Catalog (thankful, merry & love), this one has some delicate cardstock left behind in some places.
And with the wax paper, everything just POPS out so much easier!!
What a relief!
Ok, so you can tell I love the Happy Watercolor stamp set. 🙂
I also used the Retro Fresh DSP this time in addition to the Washi Tape.
Colors are Very Vanilla, Coastal Cabana, Baked Brown Sugar, Tangerine Tango & So Saffron.
I have a hard time not focusing on just colors like Coastal Cabana. (or Pool Party or Bermuda Bay or whatever greenish-blue color is in my DSP.)
But there's plenty of that in each of the packs of DSP I just got.
Ok, so if you have a club coming up, but there's something you need right away,
like the Hexagon Hive Thinlit Die 😉
I have hostess codes set up for the rest of the month.
First here's a couple reminders:
Here are hostess codes for clubs:
1/14        Julie Tekautz

       FCQQSWEW

1/24        Lea DeMaagd     3DS3M4XG

1/25        Michelle Jager     6VDSGPDF

1/28        Diane Field          Y6U9CPNJ

1/30        Keana Brewer     KC4CF2GK
Have a great day! Talk to you soon!!
Remember, if you can fall in love with a project, you can learn to create it! Here to help you channel your inner Creative Genius…
Steph
LIKE me on Facebook.
Follow me on Pinterest.
Subscribe to my FREE newsletter, and receive my "5 Tips for Making Fabulous Hand-Stamped Creations."