If you read my blog yesterday, I'd like to assure you:
The colors are all here.
And the Sweet Sorbet DSP made it on the card this time.
Thanks for putting up with me!! 😉
So here's the card: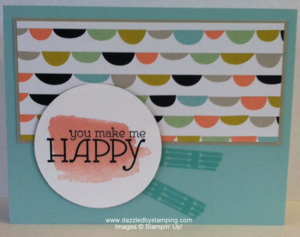 The DSP Sweet Sorbet is from the Sale-a-Bration (SAB) catalog!!!
ISN'T IT YUMMY?!?!?!
That catalog should be arriving soon.
But SAB doesn't start until Jan 28.
So…..you're just getting a sneak peek right now!
Just a reminder…..during SAB:
Every $50 purchased earns you a free item from the SAB catalog. (You could choose Sweet Sorbet DSP!)
This year, hostesses with at least a $300 workshop, earn an additional $30 in hostess benefits. So book your workshop, NOW!!
Oh the stamp set is Happy Watercolor again. Very fun.
I'll be back again with some of my new stuff.
This week I'm TRYING to balance
CLEANING my stamp room (and everywhere it overflows to)
PLAYING with my new stuff
and SPENDING TIME with my family on our week off
(Pray for me that I don't just play instead of clean!!!)
Have a great day!
Remember, if you can fall in love with a project, you can learn to create it! Here to help you channel your inner Creative Genius…
Steph
LIKE me on Facebook.
Follow me on Pinterest.
Subscribe to my FREE newsletter, and receive my "5 Tips for Making Fabulous Hand-Stamped Creations."