The new Envelope Punch Board is so cool and can be used for so many things!
I've been showing this version of a file folder card for a few weeks.
And I just LOVE IT!!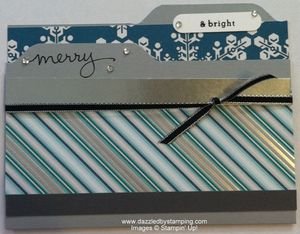 But I also love surprises.
So I didn't want to show it before my clubs got to see what they'd be making.
(Yes, those of you who haven't made one yet will be making a different one.)
I had several sheets of my favorite DSP left from my Christmas Stamp Camp and KNEW that had to be part of my first file folder card!
In general for this style of file folder card, you trim a strip (3/4" is what I removed) from one of the sides of a standard card.
THEN punch a notch–with your Envelope Punch Board–where you'd like the tab to end.
THEN use your Stampin Trimmer to cut off one of the sides past the tab.
Cool, huh?
I LOVE this.
Besides the Winter Frost DSP, I used Smoky Slate for the base card, plus Endless Wishes, Silver Foil, Basic Gray, Basic Rhinestones, Black 1/8" Taffeta and the Word Window punch.
Have a great day!!
Remember, if you can fall in love with a project, you can learn to create it! Here to help you channel your inner Creative Genius…
Steph
LIKE me on Facebook.
Follow me on Pinterest.
Subscribe to my FREE newsletter, and receive my "5 Tips for Making Fabulous Hand-Stamped Creations."