I believe you know how I feel about Lovely As a Tree…. 🙂
And if I haven't TOLD you, my absolute favorite design in the Winter Frost Specialty DSP (pg 29 in the Holiday catalog) is the angled stripes with the metallic silver in it.
LOVE.IT.
Here's a swap from Judi Siegers that uses BOTH of those items:
(plus More Merry Messages)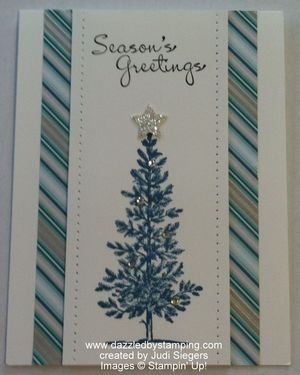 She even brought out a little more bling with the Rhinestones and Silver Glimmer Paper.
She's good, isn't she?!
Well, if you think you can't stamp like that, I have a secret for you….
Look on pg 38 of the Holiday catalog.
She CASEd this card and made it her own with the stuff she already had!!
I LOVE THAT!!
She replaced actual stitching with paper piercing, (obviously the TREE!), the stamped ornaments on the tree with a few actual rhinestone, and TOPPED it.
Judi's card is a perfect way to show you how to achieve great results.
Start with something you already LOVE!
Then make it your own–OR JUST PLAIN COPY IT!
That's the best way to learn to stamp. And I STILL DO IT.
Have a great day!
Happy Stamping!!
Remember,
if you can fall in love with a project, you can learn to
create it! Here to help you channel your inner Creative
Genius…
Steph
LIKE me on Facebook.
Follow me on Pinterest.
Subscribe to my FREE newsletter, and receive my "5 Tips for Making Fabulous Hand-Stamped Creations."