Yes! Gorgeous Grunge!
Here's another project we made at my VIP Party last week.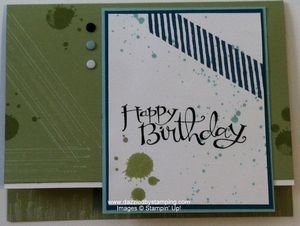 I love the set. (Including Sassy Salutations)
I love the color combo. (Pear Pizzazz, Island Indigo, Pool Party)
I love the Candy Dots. (Black, Pool Party, White) Ann called them stickers. Do you realize they're available in all four Core Color Collections?
It's just cute.
I cut off about 1/2" of the card front for something different.
We attached a strip of white cs behind and stamped the stripes in Whisper White at the very bottom.
Fun & easy!
You can order online anytime.
Have a great day!
Remember,
if you can fall in love with a project, you can learn to
create it! Here to help you channel your inner Creative
Genius….
Steph
LIKE me on Facebook.
Follow me on Pinterest.
Subscribe to my FREE newsletter, and receive my "5 Tips for Making Fabulous Hand-Stamped Creations."