Do you realize I have an Open House in 2 days?!?!
Well, even before THAT you still have the opportunity to Buy 3, Get 1 FREE designer paper (through July 31.)
Here's a card I made with a free pack I chose–Soho Subway.
The main colors shown are Summer Starfruit, Island Indigo and Early Espresso with Crumb Cake as the card base.
I sort of love the rich but fun look.
And you KNOW I love the set Four You. The "hello" just GETS me!!
So…
even though the DSP deal ends tomorrow, you can still make your order count for a chance at $25 of FREE product!
All you have to do is place at least a $50 order online with hostess code  TTCVWWZQ. Click here to order.
Then you'll be entered into a drawing.
You can also place one through me before OR AT my open house Thursday night….
But remember, the DSP deal is done Wednesday/tomorrow.
I'm excited and busy stamping and coming up with more ideas.
…including with new stuff from the Holiday Catalog.
(It's mostly Christmas stuff that I pre-ordered, but it's OH SO COOL!!)
I know everyone is chomping at the bit, wanting to order from it, but you have to wait 'til August 1….
the day of my Open House!!
Ta-da!!!!
And guess what, you get to use something from the Holiday Catalog at my Open House.
PLUS, one of the door prizes is Holiday Catalog product.
If you RSVP by tomorrow, you get your name in the door prize bin a 2nd time.
Even if you don't RSVP, you're still welcome.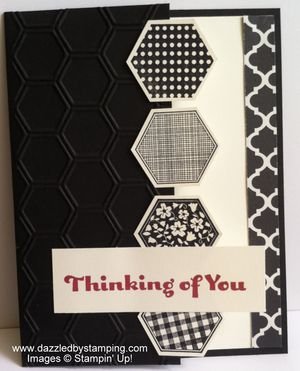 Before I go, here's one more great DSP–Modern Medley–& Four You card, also using the Six-Sided Sampler bundle.
I saw a similar one on Pinterest and changed up the colors, giving it a classic look and feel.
The "red" is Raspberry Ripple.
Hope you can make it Thursday!
I can't wait!!
Remember,
if you can fall in love with a project, you can learn to
create it! Here to help you channel your inner Creative
Genius….
Have a great day!
Steph
LIKE me on Facebook.
Follow me on Pinterest.
Subscribe to my FREE newsletter, and receive my "5 Tips for Making Fabulous Hand-Stamped Creations."