…How well we did raising money to benefit Belay Youth Ministry Friday night?!
We were 50 cents short of raising $1,000!!!! I'm so excited!!!
I KNOW!!!! When I heard the amount I should have just handed Kate a dollar to put it over the edge!!!
(Never thought of it until later.)
Thank you SO MUCH to everyone who participated! Whether you were there or just placed an online order–or sent along a donation to Belay–you are appreciated!
We had a great turnout and a lot of fun! Plus, I got to meet Jackie.
(Kate's 2-year old niece, Tara's daughter, Carol's granddaughter, Kirsten's cousin, Grace's sister…….) *Ü*
She was adorable.
Here's one of the great cards Jackie got to make Friday night.
I combined my new favorite Crisp Cantaloupe with Baked Brown Sugar and Pistachio Pudding, then added Gorgeous Grunge to the mix.
I really kinda love it!
Gorgeous Grunge is such a fun background-type stamp set.
Oh, I just realized I used A Dozen Thoughts, too.
Here are a couple more "versions" of the card….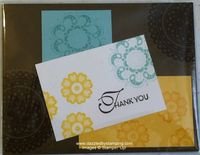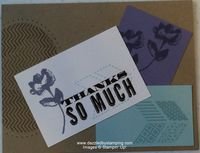 I decided to divide and conquer at the class. We had a lot of people and I wanted to keep them all busy!
Some of the people got to make the Lacy & Lovely (left) card instead of the Gorgeous Grunge. (Soft Suede, Pool Party, Daffodil Delight)
The right one is Oh Hello. (Crumb Cake, Wisteria Wonder, Soft Sky)
When I was playing and planning, I showed Elizabeth the cards and asked her opinion on which 2nd one I needed to go with….
She chose the left one. "You've done one like the other already."
Well, ok then!
I can count on her to tell me the deal. *Ü* Gotta love her!
Well, I have lots of updates to share with you. I'll try to get back tonight.
Otherwise, I'll see you tomorrow. Have a great day!
Remember,
if you can fall in love with a project, you can learn to
create it! Here to help you channel your inner Creative
Genius….
Steph
LIKE me on Facebook.
Follow me on Pinterest.
Subscribe to my FREE newsletter, and receive my "5 Tips for Making Fabulous Hand-Stamped Creations."