Last night was just a LOT of fun!
First treat was I got to catch up with one of my downline who up and moved to Florida on me a few years ago!
Then SHE took ME out for dinner–and dessert! It was great!
Then Kate and Carol brought me some salted caramels when they came to pick up their orders!
WOW!! They were A-M-A-Z-I-N-G!!!!
(Kate's my new favorite friend. Just sayin.)
Then I stamped with a couple girls in my downline. So much fun chatting and stamping.
Oh, and I shared with them the video that I took of Tyler making my nephew Emilio laugh. He was only about 3 1/2 months.
It's the BEST! That has to be my favorite sound ever–babies laughing.
And if it's MY niece or nephew or my kids? Forget about it. I just can't get enough of it.
It was cute, too, Suzi and Judi laughed as much as I did. He's adorable. That's all there is to it.
Like my title says–a night of treats. Loved it!
So I have a card to share with you that I even forgot to show the girls last night.
I keep going back and forth as to whether Gorgeous Grunge or the Six Sided Sampler set is my favorite.
I love them both so much!
The reason I forgot to show this is because it was Tyler's birthday card.
I hadn't taken a picture of it before we gave it to him, and I just saw it again the other day.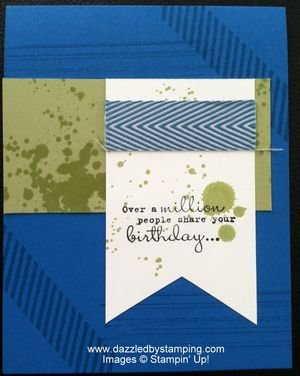 Gorgeous Grunge. Love the randomness of the set. Makes a great masculine card.
(I've probably said BOTH of those things before. But it's SO TRUE!!)
Also used One in a Million.
Colors are Pacific Point and Pear Pizzazz, including the 3/4" Chevron Ribbon.
Who DOESN'T love Chevron?
Hope you're staying cool today!! Just remembered my brother's working outside in the heat today. (Was off for a few days.)
Praying for him….
Have a great day!
Remember,
if you can fall in love with a project, you can learn to
create it! Here to help you channel your inner Creative
Genius….
Steph
LIKE me on Facebook.
Follow me on Pinterest.
Subscribe to my FREE newsletter, and receive my "5 Tips for Making Fabulous Hand-Stamped Creations."