Want to get involved and have a little fun, too?
I'm doing a stamping class to benefit Belay Youth Ministry. Click the name or picture to learn a little more about Belay.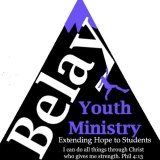 Stamping Class for Belay Youth Ministry
Friday, June 28, 6:30pm
Community Reformed Church
10376 Felch Street, Zeeland, MI 49464
The class is $5 (entirely donated to Belay on behalf of Kate Stouten), and you get to make 2 simple projects.
We'll have snacks, door prizes and raffle prizes/drawings.
In addition, 10% of all Stampin' Up! orders will be donated to Belay on behalf of Kate.
If you are unable to attend but would like to make your order count, you can place an online order anytime before the evening of June 28 using the hostess code VPQKDZM4.
Please invite a friend or 2 and RSVP before June 26 if possible so I can plan for you!
Remember,
if you can fall in love with a project, you can learn to
create it! Here to help you channel your inner Creative
Genius….
Steph
LIKE me on Facebook.
Follow me on Pinterest.
Subscribe to my FREE newsletter, and receive my "5 Tips for Making Fabulous Hand-Stamped Creations."