We had SUCH an awesome night Friday! We laughed. We cried. (not really)
It was just a good night.
AND we were able to raise $576 for Belay Youth Ministry!!!
I'm shocked and so happy!!!
Thanks to all of you who:
came to the Stamp & Crop
bought raffle tickets
placed a Stampin' Up! order at the event
placed an online order with the hostess code BEFORE the event
just plain donated
helped set up and/or take down
did all of the above!
Thank you for helping support Belay!
Kate and I haven't talked about how often we'll do this, but there WILL be more events like this in the future!
Do you think we can double the number of people that come?! That would be so great!
If you'd like to continue following Belay or would like to make a donation on your own, they are a 501C3 non-profit ministry.
Check out their facebook page.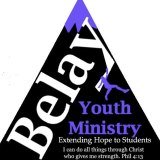 www.facebook.com/BelayYouthMinistry.
I have one regret. I FORGOT TO TAKE PICTURES AGAIN!!!!!!!!
(Somebody remind me next time, please?!?!)
Here's A picture, though….
Thought I could surprise Kate with several of these that night, but I ran out of time!
And Carol was dying to know what I was doing! 😉
Thanks for the assist, Carol, Cheryl & Kate!
Remember,
if you can fall in love with a project, you can learn to
create it! Here to help you channel your inner Creative
Genius….
Steph
LIKE me on Facebook.
Follow me on Pinterest.
Subscribe to my FREE newsletter, and receive my "5 Tips for Making Fabulous Hand-Stamped Creations."