For some reason, that saying is said around my house a lot.
So that's what I'M calling MY This and That Bundle that's on the way. (I did feel the need to add more Hung Up Cute Clips to my order of this bundle….That's my OTHER thing.)
This is a new bundle (actually product line) from the upcoming new catalog.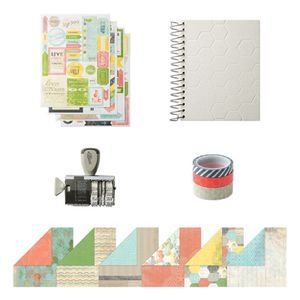 This bundle is a hodgepodge kind of journal with all the fun accessories.
Like I told you, though….
I added some Cute Clips to my order.
The bundle is also available through April 30 at a 15% discount.
The bundle price right now is $32.08. (Or you can order items individually…non-discounted.)
Item

Description

Price

131268

Epic Day This and That Journal

$10.95

130814

Epic Day This and That Designer Series Paper

$10.95

130133

Remember This and That Rotary Stamp

$5.95

131271

Epic Day This and That Designer Stickers

$4.95

131269

Epic Day This and That Designer Washi Tape

$4.95

133350

Epic Day This and That Bundle
Includes the five This and That products listed above. Only available in a bundle until April 30.

$32.08
15% Off Retail Value!
And can you tell? Pool Party and Calypso Coral are still around!!
There's a color change coming!
Have a great day!
Remember,
if you can fall in love with a project, you can learn to
create it! Here to help you channel your inner Creative
Genius….
Steph
LIKE me on Facebook.
Follow me on Pinterest.
Subscribe to my FREE newsletter, and receive my "5 Tips for Making Fabulous Hand-Stamped Creations."