So, I'm back to using my resources for my bridal/shower themed projects I worked on a few months ago…
If you didn't read Monday's post, (here it is), I suggested that a great way to make our stampin' dollars go farther–and maybe go for larger items–is to use what we already have.
There are certain themed items that I just don't buy much of–Halloween, for example. (Sorry, Kate!)
I choose to buy something more general and work it into my projects. I use my resources and expand my creativity by doing so. Sometimes it's a challenge–but that's good!
So here's my favorite design I made for my bride-to-be.
It's perfect for Valentine's Day as well.
I used a lot of the same products as I did in Monday's projects, but it's a completely different look–mostly accomplished by the Hearts Collection of of Framelits.
Again, Wedding Words jumbo wheel and Teeny Tiny Wishes make up the stamping….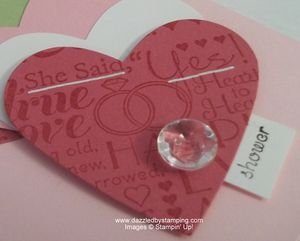 Add my White Gel Pen, a Vintage Faceted Designer Button and some Whisper White 3/8" Taffeta ribbon, and we're all good!
One last project for you–
a simple scrapbook page for a special bridal shower or even wedding photo.
(I was definitely thinking of the wedding when I used the "Imagine…" greeting for the title. *Ü*)
It's from Word Play.
Thanks for checking in again today!
Remember,
if you can fall in love with a project, you can learn to
create it! Here to help you channel your inner Creative
Genius….
Steph
LIKE me on Facebook.
Follow me on Pinterest.
Subscribe to my FREE (bi-)weekly newsletter, and receive my "5 Tips for Making Fabulous Hand-Stamped Creations."