And I'm LOVIN' it!!
So have YOU seen the Stampin' Up! Spring Mini Catalog already?! Don't you ADORE it?!
You can order from it any time now!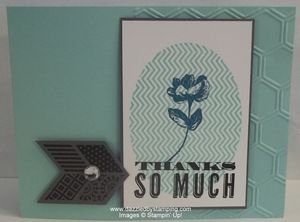 My favorite product is this Honeycomb Embossing Folder (pg 6.)
[Translation:
It was a NEED! 😉 ]
Oh–Don't get me wrong!! I LOVE the Oh, Hello set (bundle–15% savings on set + framelits) and the Large Rhinestone Basic Jewels (pg 8.)
But c'mon! A hexagon-shaped Embossing Folder?
Hands down!
So what's YOUR favorite product? (It's ok to have your own opinion. I won't bite….Just don't ask Courtney about Sock Monkey. *Ü*)
You may be wondering why I'd been saving my favorite product to show you rather than just blasting a sample out for you….
Well, I made the same design for my VIP party invitation, and I wanted those guests to see it first. (They just went out. Sorry you had to wait!)
(By the way, VIP is completely different from my Hostess Appreciation Party….Those invites will be going out soon. If you want to be included in my next VIP Party, bring someone brand new to an event of mine–or just come yourself if I've not met you yet! Here are more VIP details.)
Hope you're having a great start to your New Year!
Remember,
if you can fall in love with a project, you can learn to
create it! Here to help you channel your inner Creative
Genius….
Steph
LIKE me on Facebook.
Follow me on Pinterest.
Subscribe to my FREE (bi-)weekly newsletter, and receive my "5 Tips for Making Fabulous Hand-Stamped Creations."