I LOVE the little penguin guy from the No Peeking set! He'll be our guest star for today's Scrappy Monday post.
So I went with finding scraps this week again, rather than having a specific design in mind…..
I actually have a box of scraps I've been dumping into for a couple months that I've just not put away yet.
There were a lot of cool scraps in there! In fact, the only NON-scrap on this card is the card base.
Here's what I came up with. Too bad there were RICH RAZZLEBERRY CHEVRON scraps in there, huh?!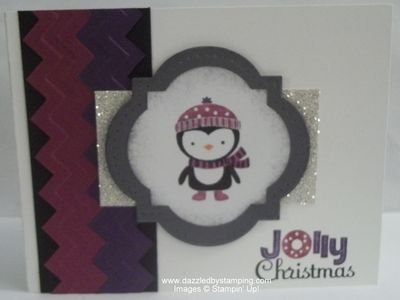 I love this card. I'm not sure there's an absolute favorite of mine missing from this card….
Rich Razzleberry
Chevron
(embossing folder)
Silver Glimmer paper
Paper Piercing (you might need to look closely–window frame shape from the Festive pack)
What do YOU think? Did I miss one of my all-time favorites?
If so, tell me what it is. Leave me a comment.
The other colors on the card are Elegant Eggplant, Basic Black and Basic Gray.
Oh, and I brushed the edge of the Basic Gray Window Frame(lit) with Illuminate ink (pg 23, holiday mini.) The white is brushed with Basic Gray.
By the way, have YOU been using YOUR scraps?
Do you want to share your project?
Upload it to our Be My PIN Guest board on Pinterest! At least some of the project needs to be from Stampin' Up! supplies.
I'd love to see your work!
Remember,
if you can fall in love with a project, you can learn to
create it! Here to help you channel your inner Creative
Genius….
Have a great week!
Steph
LIKE me on Facebook.
Follow me on Pinterest.
Subscribe to my FREE (bi-)weekly newsletter, and receive my "5 Tips for Making Fabulous Hand-Stamped Creations."