I hope you all had a wonderful Christmas!! We had such a nice day and are still looking forward to our time off (including Todd.) Yay!
And I can't believe we're almost in the new year!!!
That means Sale-a-Bration is coming up! (January 22 thru March 22.)
One of my perks as a demonstrator is access to stuff early, so I thought I'd share a swap I did with some of my new stuff….
Can you see all the fun new stuff?
First, of course, is the new set Pretty Petites and the coordinating Petite Curly Label Punch that are both SAB items (in the SAB Mini Catalog.)
You can earn either of these with every $50 purchase during SAB.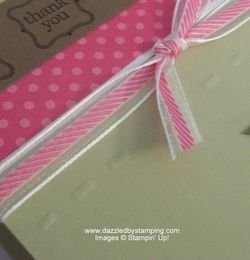 I also used the colorfully, stunning Melon Mambo Striped Organdy ribbon. Oh, it adds a little bit of fancy fun! (pg 30, Spring Mini)
THEN there's the Borders Scoring Plate for the Simply Scored Tool. (pg 26, Spring Mini)
Can you see the dashes?
Just adds some subtle, cool texture.
We'll be using the Simply Scored Tool in January. I love adding a little more interest to my cards!
Oh, and did you even notice my scraps? I just pulled strips out of my Soft Suede hanging folder.
I love making pennants with them!! Plus, I just want to keep reminding you to use your scraps! (And I still need to keep reminding myself!)
Just a reminder…all Spring Mini items are available beginning January 3.
Sale-a-Bration starts January 22.
But I'll be back here before then. *Ü*
Enjoy your [short week? week off? one more week of party planning?]
Whatever it is, have a great one!!!
Remember,
if you can fall in love with a project, you can learn to
create it! Here to help you channel your inner Creative
Genius….
Steph
LIKE me on Facebook.
Follow me on Pinterest.
Subscribe to my FREE (bi-)weekly newsletter, and receive my "5 Tips for Making Fabulous Hand-Stamped Creations."