Yes, that's right….This week's Pin-spiration made me just have to sit down and color. Go figure!
Something about this is so stunning to me! I love the berries dripping with dew or rain. And I love the colors together.
Here's my creation: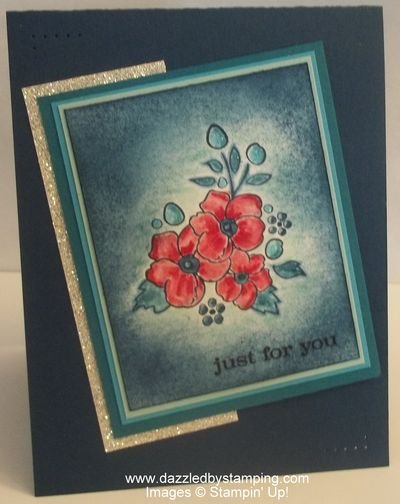 I showed my club this morning and someone said, "I wouldn't have known it was your card if you didn't tell me!"
So true.
Colors are Real Red, Pool Party, Tempting Turquoise, Island Indigo, Midnight Muse.
Plus, I added Silver Glimmer Paper to mimic the dripping dew. I even added Crystal Effects dew drops, but you really can't see it in the picture.
(Come see it in real life!!)
Sets were Bordering on Romance and Just Believe ("just for you").
Enjoy the rest of your weekend! (And come back to my blog soon if you're just stopping by for the moment….I have to do another special post for you!)
Remember,
if you can fall in love with a project, you can learn to
create it! Here to help you channel your inner Creative
Genius….
Steph
LIKE me on Facebook.
Follow me on Pinterest.
Subscribe to my FREE (bi-)weekly newsletter, and receive my "5 Tips for Making Fabulous Hand-Stamped Creations."