Happy Friday and Happy Weekend!!
Friday is my Pin-spiration Day! My inspiration is from a "real" picture that I pinned. The colors just were warm and inviting to me.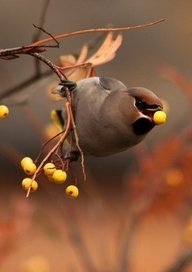 So what colors do YOU see?
This picture caught my eye last week (or earlier this week?), and then one of my friends/customers posted a picture on her blog of a card we made a year or 2 ago using Autumn Days.
The set has retired, but the card was one of the favorites I've ever made. Anyway, the colors were a little similar. So the picture caught my attention again.
There are a lot of colors in here that I see, and I tried to get a little bit of every one in….
So, I'm going with Cajun Craze, More Mustard, Daffodil Delight, Sahara Sand, Soft Suede, Chocolate Chip and Black.
Usually I don't like Sahara Sand with too many browns, but this one turned out well with the sponging.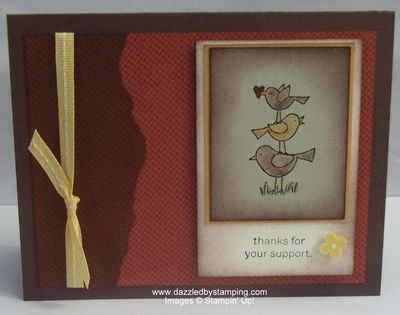 This set actually is called For the Birds, pg 34 full catalog. I'm not a huge bird person (nor coloring, as you know), but the more I looked at the set, the more I liked it.
I also used Netting (I love a good background!) and Itty Bitty Bits and the Itty Bitty Shapes punch pack.
One thing I'll mention is that when I mounted the set, I cut the words off most of them and mounted them separately on the end of the blocks.
That allows me to use the saying easily wherever/whenever I'd like without having the "mask" the rest of the stamp.
There's a cool technique on this card that I plan to talk about in my newsletter today or tomorrow. If you're not signed up for my newsletter yet, Subscribe now!
Remember,
if you can fall in love with a project, you can learn to
create it! Here to help you channel your inner Creative
Genius….
Have a great weekend!
Steph
LIKE me on Facebook.
Follow me on Pinterest.
Subscribe to my FREE (bi-)weekly newsletter, and receive my "5 Tips for Making Fabulous Hand-Stamped Creations."