Back with more swaps from our Dazzling Demos meeting….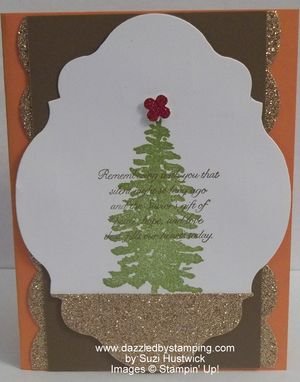 Suzi Hustwick made these:
I love the multiple uses of the Champagne Glimmer paper!
Plus, the Evergreen set is so sharp! I always like when the script is stamped across the bold background image.
I believe colors are:
Pumpkin Pie
Soft Suede
Lucky Limeade
Whisper White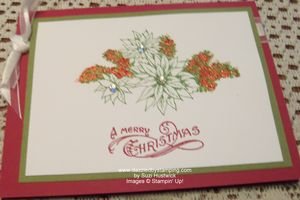 Here's one using Bells & Boughs:
Colors are:
Cherry Cobbler
Gumball Green
And can you see the Cherry Cobbler Dazzling Details?
(Thanks for swapping, Suzi!)
Check back in tomorrow for this week's Color Pin-spiration!
Remember,
if you can fall in love with a project, you can learn to
create it! Here to help you channel your inner Creative
Genius….
Have a great day!
Steph
LIKE me on Facebook.
Follow me on Pinterest.
Subscribe to my FREE (bi-)weekly newsletter, and receive my "5 Tips for Making Fabulous Hand-Stamped Creations."