Happy Scrappy Monday!
I have Stampin' Up! to thank for helping make scrap use possible by providing gorgeous colors and designer paper.
Ya just don't want to waste any of it!!
I have to thank my customer Cheryl for being my inspiration for this card and post.
Some of you–including Cheryl–have seen this card at a club or in my newsletter. 
Others of you have seen this card; I changed up the colors for World Card-Making Day and my downline meeting.
So we were making the 1st card with (one of) the club(s) Cheryl is in.
After she was done sponging, she looked down at her paper on the table, and said something like "Oh, that's pretty, too! I want to take this home."
But I don't think she did. (Paper covering table was still intact, I believe.) But I seriously think she could have used it.
In fact, if I was "thinking on my toes", I could have just cut it out myself and used a "true" scrap for the card.
Anyway, it gave me an idea for this card. I used another piece of Vanilla for the scrap underneath my sponging.
Love this idea!!!!
I can make 2 cards/2 ideas at one time!! How efficient–and creatively genius!!
Run 1 piece of Vanilla cs through the Big Shot with the Beautiful Butterflies Bigz Die.
Then sponge the diecut butterfly on top of the other piece of Vanilla–making sure to leave a nice "overspray."
Stamp the leaves/flowers from Just Believe on the butterfly.
Then use the negative piece of butterfly–plus extra scrap at the bottom, if necessary–to mask the sponging and stamp leaves on the 2nd piece.
To attach to the butterfly to First Edition DSP,

stamp

the greeting

first

; then crumple up and re-open 3 times; smooth out most of the wrinkles and adhere to black mat.
Love the look.
I also tried using the negative piece on the First Edition DSP for the 2nd card.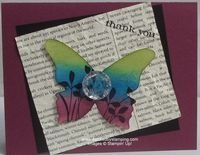 But I like the negative look on Vanilla better than the DSP. Which do you prefer?
You could do these techniques with punches, too!
What colors are YOU going to try? (Tell me some of your favorites.)
By the way, make sure you thank Cheryl for the idea, too!
Remember,
if you can fall in love with a project, you can learn to
create it! Here to help you channel your inner Creative
Genius….
Have a great week!
Steph
LIKE me on Facebook.
Follow me on Pinterest.
Subscribe to my FREE (bi-)weekly newsletter, and receive my "5 Tips for Making Fabulous Hand-Stamped Creations."