…Howlstooth & Scaringbone DSP! (And yes, it's still Scrappy Monday.)
We made this card at my newest club last week. (By the way, loving you all!!)
Many of them are crafty but not really stampers–YET. You couldn't tell that by the time they were done, though!
I wanted to share some basics with them, so I even colored with them!
I know, right?!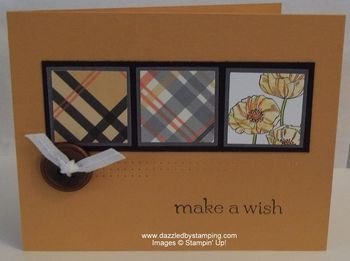 So here's what we made….
Remember, the Pleasant Poppies is the big background stamp?
I certainly didn't want to color that much!!
Plus, the little square of flowers goes well with many little squares of DSP scraps that you may find in your stash.
It's a fun card. And by the way, those of you coming to my Annual World Card-Making Day Shoebox Swap on Saturday will be making one similar to this.
If you're not celebrating World Card-Making Day with me, how ARE you celebrating?
It's a huge holiday, you know! *Ü*
Ok, back to the scrappy card…We also used Sweet Essentials. (under-rated, must-have set)
Colors are More Mustard, Tangerine Tango, and Lucky Limeade. We used Blender Pens with our ink pads.
I love how that makes my beloved ink pads so versatile!!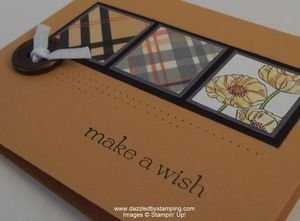 And did you see the paper piercing?
I wanted something a little different, so I pierced 3 lines but made each one a little shorter than the next.
And how 'bout the button?
I've gone through SO MANY Brushed Bronze Buttons!!!!!!!
We threaded Stitched Grosgrain Ribbon through it, and it just makes the colors POP!
Hope you're having fun using your scraps and seeing what I'm doing with mine!
Remember,
if you can fall in love with a project, you can learn to
create it! Here to help you channel your inner Creative
Genius….
Have a great week!
Steph
LIKE me on Facebook.
Follow me on Pinterest.
Subscribe to my FREE (bi-)weekly newsletter, and receive my "5 Tips for Making Fabulous Hand-Stamped Creations."