Silly-Little-Mind-Stuff #1
I love the concept of "Forever" postage stamps.
I had to buy stamps recently, and I love knowing that no matter how long it takes me to use these up, they will still be good–AS IS.
(no adding 2¢ stamps to each one when it goes up later!)
Silly-Little-Mind-Stuff #2
Recently somewhere–I honestly don't remember where–I saw a card using a whole bunch of squares to form the front layer of the card. I think it used DSP and word stamps.
….Mental note added to over-stuffed "file."
Silly-Little-Mind-Stuff #3
Fast-forward a couple days….And here I am with the thought that our Lovely As a Tree stamp set is like the postal service "forever" stamp….
It lasts forever, and it's always good! Love that!
Result of Silly-Little-Mind-Stuffs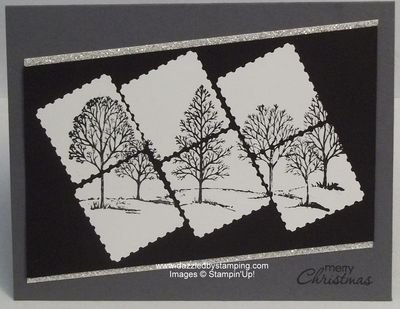 Recipe
(You can order any/all of this by clicking on my 24/7 online store at the top right of my blog.)

Postage Stamp punch
Silver Glimmer Paper
Black + Basic Gray
Silly-Little-Mind-Stuffs
…And yes, that really is how my mind works sometimes. Hope you enjoyed the random adventure!
Have a great day!
Remember,
if you can fall in love with a project, you can learn to
create it! Here to help you channel your inner Creative
Genius….
Steph
LIKE me on Facebook.
Follow me on Pinterest.
Subscribe to my FREE weekly newsletter, and receive my "5 Tips for Making Fabulous Hand-Stamped Creations."