Have you used the Button Buddies (click to see stamp images) stamp set yet? It's just adorable, and I've had it for awhile.
But guess what? It's another set that I've hardly used!!!
Well, I had a scrap design in mind (you know…using up my scraps?) and was thinking about my sets, and I thought of this card.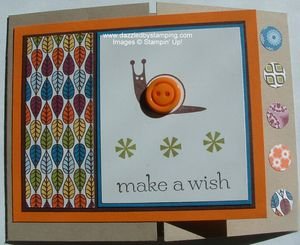 I actually kinda LOVE IT!! The DSP is International Bazaar, and I would not have thought of it as a fall design (pack of paper).
But I just really love those leaves here! The colors are more fun, but still fall. And look how little of it I had to use!
The circles on the right are 1/2"; the strip is 1 3/8" x 3 1/8".
Besides the Crumb Cake card base and the Chocolate Chip layer, the colors in the DSP are Tangerine Tango (oh, I used Pumpkin Pie to go with my button), Pacific Point, Rich Razzleberry, Daffodil Delight.
(The pack also says Pool Party is in it….and it definitely is on other pieces. But I happen to think on this design the lighter blue leaves are Bashful Blue….Maybe it's just a lightened version of Pacific Point. ??)
Speaking of DSP pack colors, I have a quick tip for you that I read online recently!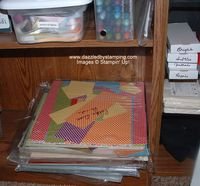 I don't know how you store your DSP, but I typically keep mine in the original packaging and stack it on one of my bookshelves.
No frills; works for me.
And for a long time, I've always "Sharpie'd" the name of the pack on the front, in case I forgot the name and needed it quickly.
(It's already on the back in small print, but I find Sharpie on the front is easier.)
Well, you know me and color coordination….I want to know what colors coordinate with the pack….
Sometimes I can look at it and figure it out, but some colors are close and I can't, so I end up looking in the catalog to see the colors listed by the design.
(By the way, don't you love that the catalog has that now?!?! So helpful!!)
Well, the tip I saw was to label the colors on the pack, too!!! I don't know why I didn't think of that! Saves me searching through my catalog every time!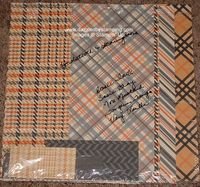 Now
you may be thinking ahead and wondering, "What happens if [you] use up
the whole pack?"….I keep the old plastic and slip all the new back in
it.
Just loved this simple little tip! (If I'm REALLY organized, I can type out labels to put on all my packs, rather than writing….Yes, I still have some that aren't labeled…..Project for another day.)
Remember,
if you can fall in love with a project, you can learn to
create it! Here to help you channel your inner Creative
Genius….
Steph
LIKE me on Facebook.
Follow me on Pinterest.
Subscribe to my FREE weekly newsletter, and receive my "5 Tips for Making Fabulous Hand-Stamped Creations."