Yes!! It's Scrappy Monday!! Stampin' Up! products are amazing, and who wants to waste ANY of it?!

When we make good use of our cardstock and designer paper scraps, we're just able to do more with less! That means we can send more cards to more people!!
Woo-hoo!!

So who was the last person YOU actually gave or sent a card to? Even I need to work hard on that.

This sample is so fun! (I went from dragging my feet on Christmas cards to stamping snowmen! *Ü*)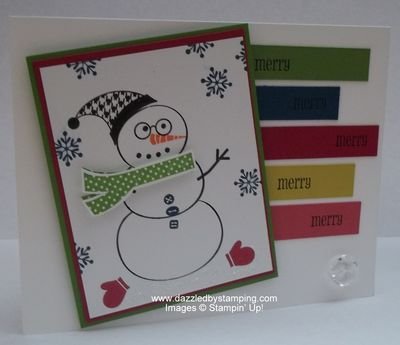 I've had this Stylin' Snowfolk (click to see image) set since the new catalog came out. It was a "must have" even though I didn't mention it in my "Top 5s".

Now that I think of it, I chose it as one of the free demonstrator incentives that I earned during Sale-a-Bration! How cool is that?! I love the perks of my "job!"
I used my scraps as pennants without tails here. (There's probably an easier name, but that's the one I'm going with!)
I didn't want the pennant edges s to be all lined up on the right, and it didn't matter how long they were on the left, since those were covered by a big ol' image.

Perfect, flexible design for scraps! 
I stamped "merry" from Pennant Parade (click to see image) on each of the strips to add to the fun.
Oh! I had a couple more fun ideas you could do for this card design!
IF you chose a design like this for your Christmas card, you could write the names of the individual recipients on the pennants–rather than inside….If you didn't have enough names to fill them, you could add some snowflakes or another design on the others–or obviously use less pennants.

This would be a great card–birthday, friend, whatever–to list all the qualities you appreciate about the person…either with stamps or writing. FUN!

The colors are all of the new (2012-2014) In Colors–Gumball Green, Midnight Muse, Raspberry Ripple, Summer Starfruit, Primrose Petals. Plus, there's a little Dazzling Details under the snowkid and a Vintage Faceted button in the corner.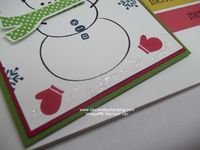 Have I told you how much I love those faceted buttons? Truly, it's much simpler than this, but to me–at first glance–it looks like I attached a huge gem to the card.
Others–probably more accurately have suggested the old-style (thus vintage) doorknobs.
I guess I'm just a simple girl, but they are BLING to me! And in a different way than rhinestones or glitter.
LOVE! 
One last thing while I still have your attention…
Did you hear about my CONTEST yet?
I'm in the Pinterest Pool now and loving it! I'm having fun building my boards, and I made one just for you…Be My PIN Guest!

If I'm following you (if I could find you), I invited you to be a guest pinner to the board anytime.


Here are CONTEST details
PIN a pic of a Stampin' Up! project that YOU made–not at one of my classes–by September 7 for a chance to win a Festival of Prints Designer Series Paper Stack. WINNER will be decided by the number of repins/likes received.


You may enter as many times as you'd like, and PLEASE make sure you REPIN to vote!!! (You may repin as many as you'd like as well.)


While you're there, make sure you FOLLOW me, too! If you need an invite to pin, please email or message me! I think you'll have to FOLLOW me on Pinterest first for me to be able to find you. I already followed all the Facebook friends I could find. (Pinterest made that easy for me.)
Let me know if you have questions. I can't wait to see all your projects!

Remember, if you can fall in love with a project, you can learn to create it! Here to help you channel your inner Creative Genius….
Have a great week!
Steph
LIKE me on Facebook.
Follow me on Pinterest.
Subscribe to my FREE weekly newsletter, and receive my "5 Tips for Making Fabulous Hand-Stamped Creations."