The new Stampin' Up! catalog went live Friday, and I "had" to place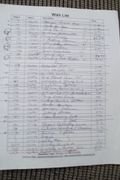 a BIG order, let me tell ya!  As you can see by my huge wish list, I crossed off a lot, but there's still plenty more to choose from. 
Plus, you know it always changes throughout the year….And by that, I mean it keeps getting bigger!
So do you want to know my Top 5 "Must Haves" from the new Stampin' Up! catalog?  (These don't include the standard, "goes-without-saying" needs of the new In Colors ink, cardstock and markers.)
Top 5 "Must Haves"
1.   RAZZLEBERRY SPLASH Simply Scrappin' Kit (pg 168)
Anyone who knows me—especially since I've already told so many of you—knows that if Rich Razzleberry is involved, it's a must have.
I don't even have the kit in my hot little hands yet–it's on its way!!–but I set a date in August for the class revolving around it!
2.   Essentials Paper Piercing Pack (& mat & tool, pg 181)
Yes, I cheated a little….How could I possibly put down one of these items and not the other 2?!  So I guess my MUST HAVES are more than just 5….But we already knew that.
These new templates will be so cool!  Did you see the mat is going to be bigger than a standard card?  That will be so helpful.
3.   Vintage Faceted Designer Buttons (pg 176)
Aren't they gorgeous?!  I can't wait to try these out!
4.   Apothecary Accents Framelits (pg 191)
I actually have these already!  As a demonstrator I get
to pre-order select products.  Here's a card I made with them using Summer Starfruit, Elegant Eggplant, Baja Breeze, and a little Gumball Green.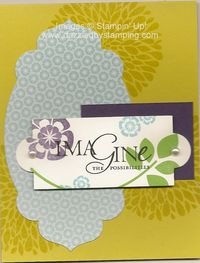 5.   Itty Bitty Banners stamp set (pg 134)
So if I need these, you know I already have to have (and do have) the Bitty Banners Framelits!  There I go bending the rules again.  These are adorable!
And the Framelits works well with Teeny Tiny Wishes, too.  I love "more bang for my buck!"
So, TELL ME….What are YOUR Top 5 "Must Haves" from the new catalog?!
Check back tomorrow to see more I have to share, and if you don't want to miss out on ANYTHING, sign up for my newletter.  When you do, you'll receive my "5 Tips for Making Fabulous Hand-Stamped Creations."
Have a great day!
Steph
Subscribe to my newsletter